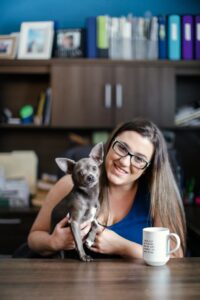 Meet Dayna!
Dayna is one of the owners of CocoMutts, and an award-winning entrepreneur from Ottawa, Ontario. Outside of her work at CocoMutts, Dayna also owns Dayna's Pet Sitting inc and runs a Podcast called The Blep Show. Dayna is the President & Executive Director of The FAM Network, an organization dedicated to helping people who are in crisis with their pets.
Dayna is a canine behaviour consultant who has been practicing in reward-based methods for 8 years. She is passionate about helping pet parents find all the best solutions for their fur-babies. Dayna is now working towards her certification in pet nutrition to better serve you.
When not in the store, Dayna can be found snuggled up with her 5 chihuahuas (Potamus, Ruth, Tay-Yun, Taco and Elton). She loves coffee, wine and travel, so if she's not at home (and it's not a pandemic) you might find her on a beach somewhere working remotely!
Meet Jennifer!
Jennifer is one the owners of CocoMutts, and has been very active in the Ottawa dog rescue community for many years. She has also been branching out into international rescue work by assisting with organizations responding to large scale animal emergencies – large scale seizures, natural disasters etc. Jennfer also participates internationally in spay neuter clinics. 
When not at the store, Jennifer works full-time in marketing for a Canadian health organization and in her spare time can be found spoiling her 3 dogs and a parrot!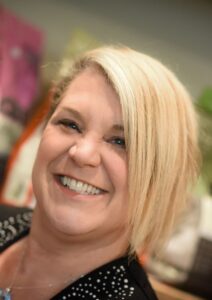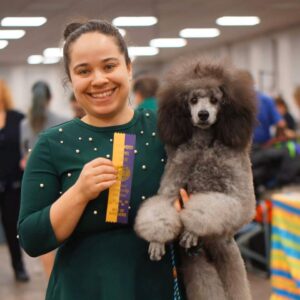 Meet Alex, 
Certified Master Groomer!
Alex is the co-owner of CocoMutts, she is Ottawa's premier professional dog groomer! Alex is a Certified Master Groomer. As an all breed groomer Alex attends frequent seminars and competitions to ensure her skills are up-to-date. Safety and comfort of each animal is her number 1 priority.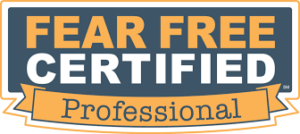 Meet Zoey, 
Certified Professional Pet Stylist!
Having started grooming in 2014 Zoey absolutely loves dogs, and has worked hard to create a calm, low stress environment for her clients while they are in the salon. 
She is looking towards competing in the coming years and has completed her certification with Certified Professional Pet Stylist and is now working towards her certification as a Master Groomer. She is also working part-tine with Team Ace assisting in preparing and handling dogs in the show ring, along with handling her own Pointer, Daniel, to his Canadian Championship. 
Zoey loves to groom in the Asian fusion style, fluffy teddy bear trims and breed profiles. She can't wait to meet you!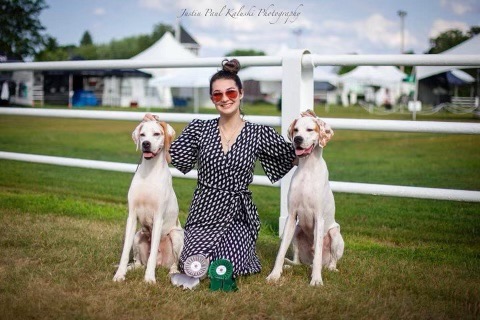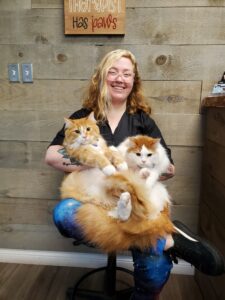 Meet Morgan, 
Certified Professional Pet Stylist!
Morgan started her grooming career in early 2017. She's completed several courses and has multiple certificates for continued and extensive education in the pet grooming industry; including, Emergency & Standard First Aid & CPR (for pets and humans). Morgan continues to take courses and training towards her goal of becoming a Certified Master Groomer. She enjoys grooming both dogs and cats, and takes pride in all of her work. 
Morgan was born and raised in Nova Scotia. She moved to Ottawa in 2012. She has a dog named Athena and a Sphynx named Vidar. When she's not grooming, Morgan enjoys off-leash hiking with her dog Athena, working out  and a good cup of iced coffee!
Meet Cindy!
Cindy has always known that because of her passion for animals that her career would have to involve them. She has been a groomer for 25 years and part of the CocoMutts team for over 8 of them. Cindy's experience has taught her patience, compassion and attention to detail are what matter most. 
Outside of the salon, Cindy enjoys country living, spending time with family and friends and loving her many pets including Hazel-Mae, her mini Pig.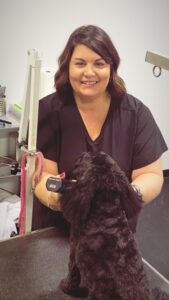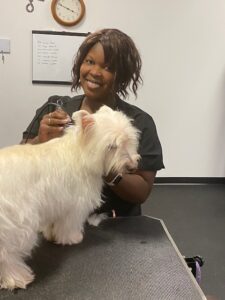 Meet Kelsey!
Kelsey has had a lifelong love of all animals, but her passion for grooming began 14 years ago as a Bather Brusher. Over the years she has worked her way up, completing several courses and earning certificates to propel her further into her career.
In her off-time, Kelsey can often be found walking her dog Preston, hosting get-togethers with friends and family, exploring local wineries and breweries, shopping, or travelling. She is also a live music enthusiast, frequently attending concerts and festivals.
Meet Cezanne!
Cezanne has always had a passion for animal welfare and grooming. Cezanne is now able to live her dream of being a dog groomer. She has been working as a dog groomer since 2018, and is always looking to learn new skills related to her job. Cezanne is proud to be a novice hand stripper and always looking to expand her knowledge and technique in this niche market.
When not prettying pups Cezanne enjoys video games, anime, reading, exploring the outdoors with her daughter and dog, and going camping in the warmer months.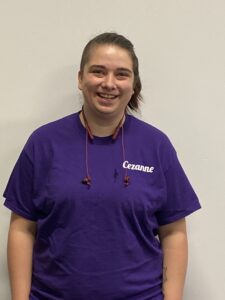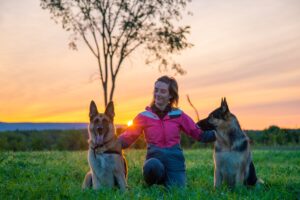 Meet Holly!
In early 2022 my passion for dogs and hair collided. I'm a fully licensed Hairstylist/Barber since 2015, during those years attending many courses to further harness my skills.

I am excited to grow myself further by learning all the techniques and skills involved with grooming dogs and to share my love of dogs and hair and give your pet a calming experience.

Owner of 2 German Shepherds, Hunter & Romeo, and 2 cats, Willy & Waylon. In my spare time, I love hiking in nature and training my dogs, and when I'm not doing that you can find me in the garden during the warmer months.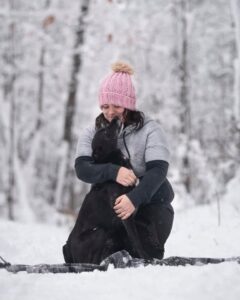 Meet Catherine!
Catherine has owned and fostered a wide variety of dogs her whole life after growing up in a family that was involved in dog sports. She has been involved in the Flyball world both playing and teaching for 17 years with a variety of both traditional and non-traditional breeds including: shelties, golden retrievers, border collies, boarder whippets, a malinois/pitbull resuce dog and a sport mix all of whom have had successful careers!
Catherine is known for getting the best out of both dogs and their handlers by training the dog in front of her and adapting her training style to what works best for each individual dog and handlers. Her keen eye and problem solving abilities have allowed her to help her students get the best of out their dogs.
Meet Cassie!
Cassie's passion for dog training began at a very early age when she rescued her very first dog, Lucky. She enrolled in a local dog training class and the rest is history! Teaching pet obedience over the years has given Cassie first-hand experience in building positive relationships between dogs and their people. After working with many families and their dogs, it became clear to her how important communication and understanding is.
Cassie is currently training in Competitive Obedience, Agility, Flyball, Bikejor, Dock Diving and Tricks with her Doberman Freja. She shares her home and passion for dog sports with her husband and 14 year old son. Cassie believes in communication, consistency and making good choices when it comes to pet dog training. And most importantly, always have fun!